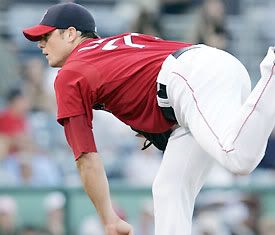 Theo Epstein acted today in a move that has stunned Red Sox Nation and baseball in general. Top Red Sox prospect, Jon Lester, was traded to the Washington Nationals in a three-way mega-deal. The deal saw the Sox sending Jon Lester and Mark Loretta to the nationals with Loretta being flipped back over to San Diego for young LH hurler Sean Thompson.
In return the Nationals send disgruntled 2B/LF Alphonso Soriano to the Sox for the best Red Sox pitching prospect since Roger Clemens. There was also some cash and players to be named later in the deal.
I'm in complete shock and awe over this trade. Just when it looked like the Sox were going to have some homegrown players they trade Lester of all people, for another strikeout artst with zero plate disapline. This is just disgusting...
I am glad to have another LH RP on the team but jeez...oh yeah...
.
.
.
.
.
.
.
.
.
.
.
.
.
.