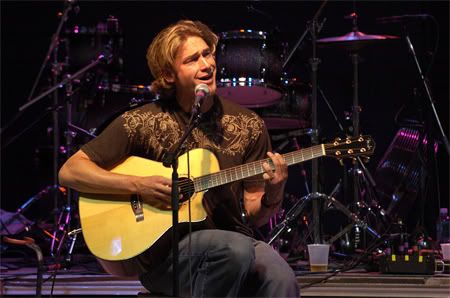 During this winter Bronson Arroyo was one of the only players to really express his love for Boston, and the Red Sox, and now he's out. Today the Boston Red Sox traded Arroyo for the power hitting strikeout artist Wily Mo Pena. I'm not thrilled with this trade at all. Arroyo has been a solid 4 or 5 starter for the Sox and would have been a valuable asset out of the bullpen for long-relief this year. When you have starting staff who aren't too young (Schilling 40, Wakefield 40, & Wells 43) you figured it'd be good to keep this proven younger pitcher (Arroyo 29) around, I guess not though.
I look at this as a sign that:
A) Matt Clement's not going anywhere.
B) David Wells is most likely going to be in a Red Sox uniform this entire season (great...)
C) The Sox front office has a lot of confidence in our younger core of pitchers in our system.
D) Papelbon is most likely going to be a LRP to start the season.
E) And lastly, if one of the said older pitchers above gets injured this year (along with Becket's history) our MLB level depth is greatly thinned out.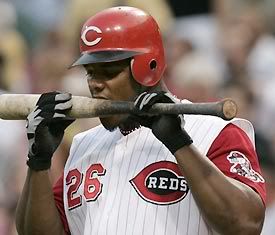 Wily Mo Pena is basically the anti-Red Sox as far as hitting strategy goes. His splits in 99 games with the Reds last year look like this: .254/.303/.492 - 19 HR's, 51 RBI, 20 BB, and 116 K's.
Wily will most likely split time with Trot in RF where he'll face the majority of LHP. His stats against lefties are far better with far fewer K's then against RHP. Who knows, maybe with another year and the tutelage of Papa Jack, Manny, Ortiz, et al. this young slugger could turn it around. Still, I'm very hesitant on this, and am curious how much Pena will take to part-time status, he could pull a Jay Payton on us.
I'm going to miss Bronson a lot. He was a guy who embraced this city and team. He wasn't the most talented pitcher by any means, but more often then not he got the job done. He pitched in some of the most memorable games in recent Red Sox history (a lot involving slAp-Rod), and his ability to pitch inside without fear was a valuable asset. I wish him luck, and pray Wily Mo becomes some sort of a genius move. I have my reservations though...
To Read how Reds fans are reacting in the blog-o-sphere check out The Red Reporter, a great baseball blog worthy of a daily click.