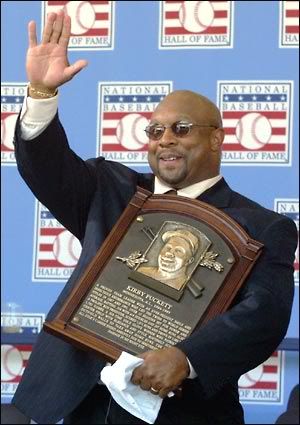 (AP Photo)
In unfortunate and very sad news, Hall of Famer Kirby Puckett has passed away today at the age of 44. Puckett had been in intensive care since suffering a major stroke during brain surgery.
Although I was a die-hard Red Sox fan growing up, Kirby Puckett was always one of my favorite baseball players. He reminded me of Larry Bird in the way that you knew he was athletic, yet he looked, for lack of a better word, rather normal. His passion and joy for the game was open for all to see and it really sad to the baseball community as a whole that he's now gone. I remember vividly seeing the Twins kill the Red Sox in Fenway Park in 1991. I was sad to see my team lose (14-1 to boot!) but watching Kirby play will always be burned into my mind. Granted he wasn't on Boggs, Mo, or Greenwell level, but he was as close as a non-Sox could be.
I've had the same baseball glove since my Freshman year in high school, an A2144 Wilson Kirby Puckett signature model. I still use it to this day when playing catch or in league games, and it is one of my personal prized possessions. I'll use it with that much more care this summer in honor of a great ballplayer who's career and life, were both cut way too short.