Well today is the official unofficial holiday that is Super Sunday and I can't help but feel a little devoid with the Patriots not being in the big dance. What can I say; I've gotten pretty spoiled. Either way I'm excited to see a good game, watch some funny commercials, eat some junk food, and drink some beers. My friend Gregg pointed me towards this article on CBS Sportsline about Super Bowl etiquette. Pretty hilarious. Now back, to our regularly scheduled programming, baseball.
Super Scalpers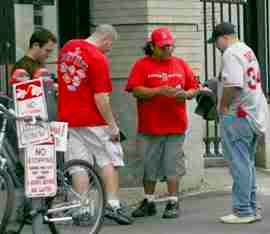 It's getting toward that time of the year where I like to bitch about the scalpers around Fenway, the Boston Red Sox, and the city of Boston and how it's deals with scalpers. I was talking earlier in the week online with my friend Brian from Boston Sports Massacre about scalpers and our general hate for them. He pointed me toward an article he wrote about scalping and and it's a great column for BSM which originally was printed in The Weekly Dig and can be read here. The following quote from his article pretty much sums up the direction I'm going with this; "So what does that leave me? Scalpers are like grown up Garbage Pail Kids so I could use that, but even Garbage Pail Kids had their charm. Scalpers are charm vacuums."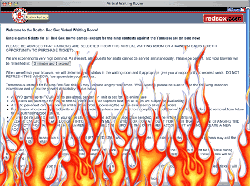 This debate was sparked roughly a week ago when I was chilling in online waiting room hell over at resox.com. I sat for roughly two hours trying to get some tickets to no avail. There's a few reasons that I can think of that made this task as painful as it was.
1) There's a large demand for Red Sox tickets from a rabid fan base.
2) Where there's a demand for tickets the vultures, I mean scalpers are then attracted.
3) There simply must have been something wrong with the servers the Red Sox were using.
Now I would almost guarantee that there were scalpers renting out rooms full of computers to take advantage of the online sales. Hell, they probably hired out a whole team of telemarketers to flood the phone lines as well. I really don't know how this process can be fixed, however for every random drawing they've had I never been selected to have the opportunity to purchase tickets, and I sign up for every drawing.
Now get this. We all know that scalpers become Season Ticket holders (which makes me want to jam my fist down my throat). What I didn't know is that before single game tickets to regular season games go on sale to the "public" they (Your very own Boston Red Sox) offer additional tickets to the season ticket holders first. So not only do you have a small ballpark where roughly 1/3 of the tickets are gone to season ticket holders, but they get to buy additional tickets on top of theirs before you or I. The kicker on this is that a lot of these season ticket holders are those scumbags we call scalpers. So now we're looking at a small ballpark, rabid fan base, large contingent of scalpers with tickets, and not that many tickets left to the common fan. Oh yeah, tickets to a Red Sox game keep going up every year, and they're the most expensive in all of baseball. Sweet. What we have here, is a failure to communicate.
Also, there are a lot of people at these games just because they can be there. The cooperate presence at the games is slowly becoming sickening, just look up from your seat in the RF Grandstands at the .406 Club. The fact that there's an f-ing dress code in a part of Fenway is enough to make me want to get a job with the postal service and lose my cool at work. Every time I think of the people up there with they're khakis and dresses and overpriced drinks I wonder why they're at the game and I'm not. I also question the existence of a God. These are the same people who will pay a scalper $425.00 for two tickets to a game on a Tuesday night in June against the Royals. Why would they do that? Because it's not their money, they'll just expense it. (My blood is boiling right now…)
The next part that really gets me is that the City of Boston, the BPD, and Boston Red Sox all know where the scalpers are outside the ballpark. Anyone who knows Fenway and has spent a lot of time around the park can pick up on this in a second. For those of you don't know, here's where you will find the scalpers any time the Sox are in town. Without a doubt this is a no fail.
Right outside of the Kenmore T stop (Green Line), outside of Fenway T stop (Green D Line), on the corner where the Art Store is by Landmark, walking up and down the street near Boston Billiards, right before the bridge by Unos, and over by the gas station towards Berkley. The park is literally surrounded. It's like a well executed military formation.
Everyone knows this. Either the cops are in bed with the scalpers (gross) or they just don't care. If you stop them from selling outside of the park and keep pushing them further back it'll be harder for them to make money and the scalping will lesson. Hearing the "Tickets! Tickets! Any one selling? Anyone need em'?" is like hearing the annoying coo of a pigeon. I hate scalpers. And what's with their dress code?
Do you have to look like you spend every free night of yours in a strip club? What's with those Guido glasses, tank tops, and sweat pants? Do you have any dignity? I'm really afraid I'm going to snap one of these days and go Frank Castle Punisher style. If you read in the Herald about a man with a skull on his shirt attacking scalpers around the Fens…it wasn't me. Did I mention I hate scalpers?
The Gongzo Show
New Red Sox SS Alex Gonzalez helped lead his Venezuelan team to victory last night with a 3-run walk-off blast off of the Dominican Republic's Jorge Sosa. This is a good sign and hopefully his pop will be back with the Sox. Most likely this was a fluke, still was pretty good to see though. "This homer is even more important than the one I hit for the Marlins in the [12th inning of Game 4 of the 2003 against the MFY] World Series, this was for my country." OK Alex, don't get too bent out of shape now. His uber commitment to the WBC is a little sketchy in my eyes too, missing a large part of Spring Training with a new team seems to be the wrong decision, time will tell though.
Peter Gammons Rocks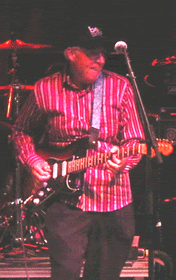 Peter Gammons continued his "I Get Cooler Everyday in Derek's Eyes" trip with his latest post on ESPN Insider. Peter gave a large boost to the baseball blogosphere acknowledging the works of people like Dave Pinto (Baseball Musings) who've helped me along with SawxBlog as well as some of the other regular bloggers out there. I don't dive too hard into statistics on SawxBlog and try to keep it from a fans perspective, however it's pretty exhilarating to think of Peter falling across this site and reading what I've written. Good Stuff. I'm posting what Peter wrote about baseball bloggers below since most people don't have access to ESPN Insider. Enjoy your Super Sunday, I'm pulling for the Steelers I guess (Cringing) to keep the AFC dominance up.
Write ways to look at the game
The forum that the Internet has provided for statistics and statistical analysis is one of the biggest changes in the way we follow baseball in this century. Granted, there are what one friend calls "stat Nazis who believe there is no human element." Granted, statistics are ways to lead us all to predictable truths. But what "Bill James Baseball Abstract" and the Hirdt Brothers' "Elias Baseball Analyst" opened our eyes to nearly 20 years ago have become daily necessities.
There cannot be a better, more thoughtful Internet journal than "Baseball Prospectus," which has the invaluable and unique resource of Will Carroll's "Under the Knife," bookmarked by every front office and media member. "Hardball Times" is daily must-reading, as well as "Baseball Analysts" and the "Baseball Think Factory." Now there are countless blogs, none better than David Pinto's "Baseball Musings," which also provide several significant tools.
Look, it may kill the scout in the field to hear that one can learn a lot from statistical analysis annuals geared to Rotisserie heads, but it's certainly true, starting with the annuals published by "Baseball Prospectus" and "Hardball Times."
But take, for instance, Ron Shandler's "Baseball Forecaster." Shandler makes no bones about the fact that he gears his book to Rotisserie players. But as one pours through all the statistical data, there are fascinating statistical prognostication tools, from measures of a pitcher's dominance and command, to percentages of balls hit on the ground, in the air and on a line. Or measures of a hitter's ability to make contact.
Meanwhile, there are several other gems that remind some of us what we thought we already knew.
• Kevin Youkilis' second-half OPS -- .973
• Alfonso Soriano away from The Bandbox at Arlington -- .224, .374 slugging
• Jhonny Peralta's second half OPS -- .917
• Carlos Pena's first/second half OPS -- .682/.898
• Wily Mo Pena's first/second half OPS -- .903/.719
• Junior Griffey's second half -- 21 HR, 1.082 OPS
• Rafael Furcal's first/second half OPS -- .402/.891
• Jeff Francoeur's OPS by month -- 1.326, .878, .739, .222
• Geoff Jenkins' second-half OPS -- 1.024
• Miguel Tejada's OPS before and after Palmeiro's suspension -- .934/.704
• Javier Valentin's first/second half OPS -- .715/.965
• John Patterson, off years of arm injuries, threw 100-plus pitches in 16 of his last 18 starts.
To Joe Sheehan, Lee Sinins, David Pinto, Ron Shandler, Rob Neyer, all those tireless bloggers, thanks. You make my job far easier, and far more interesting. And changed the way we look at the game.
- Peter Gammons, 2/4/6