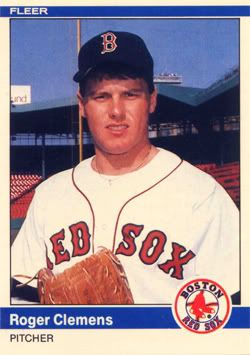 It seems that even in the off-season it's hard to have a slow news day in Red Sox Nation. The latest rumor heard on WEEI this morning is that the Red Sox are going to be making an aggressive push to pursue Roger Clemens to come back to the city where his great career started off. Part of their marketing campaign for Clemens to come back is a slick video that's being packaged together trying to convince the ace to come back home. Gerry Callahan wrote about this for the Boston Herald today and can be read here (Subscription Only).
I think this latest pursuit by the Sox to get the Rocket back is a win/win situation for the team. First off, the Sox have some extra money to spend now that we have Crisp instead of Damon. Secondly, we have the luxury to be able to overspend for a seasoned veteran pitcher because of how deep and young our pitching staff really is (See Papelbon, Lester, Hansen, Alvarez, & Lil' Manny). Thirdly, even if Roger declines the offer presented by the Red Sox, it's still a good will gesture being done by the new ownership, and can serve as being the final band-aid between the Red Sox and Roger Clemens. Fourthly, seeing a potential rotation that would be Clemens, Schilling, Beckett, Clement, & Wakefield with Arroyo, Foulke, Seanez, Timlin, Papelbon, & Tavrez in the bullpen is just too silly to not get excited about. Fifthly, at worst, we may be helping drive the cost up for other teams to obtain the services of Clemens. And lastly, it just seems fitting that Clemens would be able to book end his career in a Red Sox uniform. He'll be able to reach 200 wins with the team, pass some guy named Cy Young on the all-time win list, and maybe get the championship in Boston that alluded him in 1986.
Some people out there may still cry sour grapes with Roger, I for one have forgiven him, and would love to seeing him toeing the rubber in the Fens again. So what do you say Roger, one for the road?