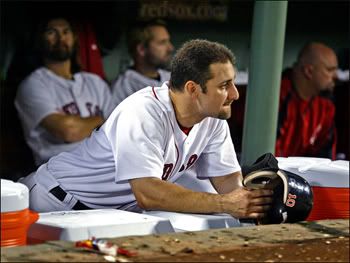 (Boston.com Photo)
It looks like Tony Graffanino may be a dead man walking down in Fort Myers this Spring. Jeff Horrigan is reporting in today's Herald that the Red Sox are going to try and trade Tony before the end of Spring. Tony came over to the Sox last year after Bellhorn's debacle of a year and filled in amazingly. Tony played a total of 51 games for the Sox in 2005 and he was a key ingredient for the Red Sox to even make it to the post season. Tony hit .319 while with the Sox and had a respectable OPS of .812. He was a solid addition to the infield and reminded me of a poor mans version of Bill "The Professional" Mueller at second-base.
Graffanino unfortunately made one glaring error for the Sox in Game two of the ALDS last year, however the ovation he received to kick off game three really showed me how much the Fenway Faithful really respected his play during the second half of the season. The Sox are just too deep right now in the infield and he's the odd man out. I'd personally like to see the likes of Alex Cora leave instead of Tony, however Alex's defense and ability to play 2B, SS, and even 3B make him too valuable of an asset.
Graffanino had this to say about his time thus far in Boston as well as his unique situation;
"On the flip-side, they have to do what's best for the ball club, but he (Theo) also said if he could get me into a situation where I could play second base, he'd try to do that for me. He said that there were teams that were interested. It's going to be sad if I leave because I've loved every second of this, but I'd also be excited about the opportunity to play second base on a consistent basis, and there are still opportunities out there."

Tony was also quoted on how much he appreciated Theo's efforts and honesty with him, yet another reason why we have the right guy back in the right job. Tony's efforts will be missed and I wish him all the luck on his next baseball journey. Now it's a waiting game for Graffanino and Sox fans to see where he's going, and who we're getting.