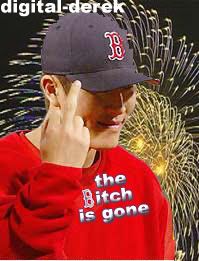 First off, it's 12:30 on a Wednesday and I'm drinking a STIFF vodka tonic. These things call for a celebration. Read the rest here. What a great way to start the season.
Some Quotes from Theo:
"This is a disappointing end to this whole saga," said Epstein. "He made some contributions in 2003, helped us get to the postseason. The two-year contract, as opposed to a one-year deal through arbitration, was certainly a mistake and I take responsibility for that. It's just a mystery what happened to this guy.
"He went from being a one of the dominating relievers for a considerable stretch to obviously struggling to get guys out for us in Triple-A last year. In the end, it was a disappointment. That said, given all the circumstances, we're satisfied with today's resolution. Rather than releasing BK, we pick up a prospect we like in Chris Narveson. We think he can be an effective 23-year-old for us at Triple-A."
"I think we were all looking for any indication, any positive sign, that he might come out of it and help us here in Boston," Epstein said. "Because, trust me, we wanted to reap the benefits. We've invested a lot of time in trying to unravel this mystery. I think the entire staff was unanimous that there were no indications, if we put him on the Major League team to start the year, it would result in anything positive."