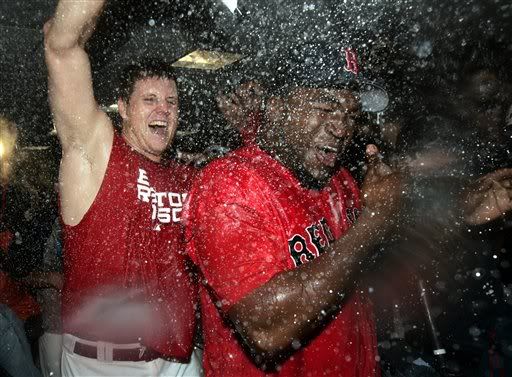 (AP Photo)
The Boston Red Sox rebounded after a disappointing Saturday loss to the Yankees to claim the the AL Wild Card spot for the third year in a row with a 10-1 win over NY. Any baseball fan can point out many of the flaws that the 2005 Boston Red Sox have, and 90% of those flaws revolve around their pitching staff. However, they still won 95 games, and the slate is clean once again.
There are eight teams now, and everyone's 0-0. 11 wins takes it all, anything less is short of all clubs goal. I'm not trying to over simplify the playoffs but it is rather simple. Win today, and worry about the next day when it arrives. The Sox are a veteran team that is so used to pressure, that has more then enough playoff exposure that that's a non-factor.
If they can get hot, they'll go deep. They're going to be playing a very talented Chicago Wrong Sox team, and their bats are going to have to carry them over the good pitching staff they have over there, but that's a wonderful problem to have. The Red Sox are able to defend their championship. The Red Sox made the playoffs without their ace, without their closer, and with a ton of bumps and bangs along the road.
All eight teams should be proud of themselves for getting here. Tomorrow's a new day, and the Red Sox have as good a shot as anyone in the AL to go back to the World Series. It's ALDS time now, and I can't wait for Tuesday already.