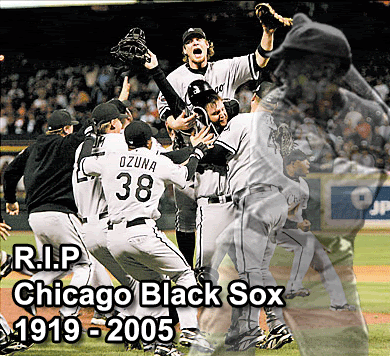 (SawxBlog Illustration)
From one Sox to another, congrats to the 2005 World Champion Chicago White Sox. It was a year ago today that us as Boston Red Sox fans had one of the best days of our lives, and now it's the South Sides turn. I highly doubted the White Sox and didn't think they'd be a factor come playoff time. Obviously I was wrong. I still think the Red Sox could have won that ALDS, but it doesn't matter now. The White Sox got some breaks on errors and calls throughout the playoffs, however they made their breaks count, and they deserve to sip the bubbly today. Congrats.
It is now official though, Chicago Cub fans are allowed to bitch as much as they want now...poor Cubbie fans... They are now the only "cursed" franchise in baseball (aside from the Curse of the A-Rod) but who knows, maybe it's their turn next year. It's like an orgy of winning it all for teams that just couldn't get it done, so who knows right?
What a difference a year can make. Last year I was drinking champagne and smoking a cigar on Comm. Ave, and this year I have no clue about who our GM is, if Manny is still going to be in LF, if Damon will be in CF, Nixon is always hurt and just had surgery, don't know who'll be on first or second, or third. All we know for sure in the infield is *gulp* Edgar. Our starting pitching staff is questionable with Schills health, Clements knee surgery, Wells trade request, and Wakefields age, leaving us with *gulp* Arroyo. Timlin being in Red Sox next year is in the air and the rest of our "bullpen" makes me queasy just thinking about it. The only bright spot is our young talent...but does all this mean we're in a rebuilding stage now? I sure hope not. Now that the World Series is over we have exclusive rights to talk to our eight key free agents for 15 days. We're currently sitting (as I type this) in the eleventh hour on Theo, and if we don't have a GM, it kinda makes these 15 days a little hard. It's official though, Theogate is now in full swing. Head over to Boston Dirt Dogs to get a full run down of what the media has to say about this...it's not looking too good though. What a difference a year can make.

Remember What it Felt like? (Dirt Dogs has another great link that some may miss.)
Who would have thought to record reactions to the Boston Red Sox winning the 2004 World Series? My wife. Listen to St. Petersberg writer Mike Wilson react to the Red Sox winning it all one year ago here.