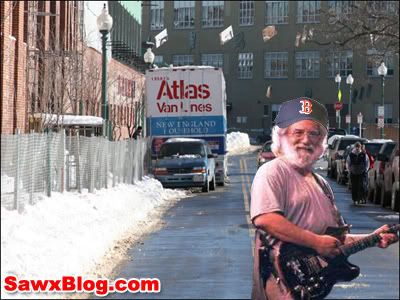 (SawxBlog Illustration)
"Sometimes the light's all shinin' on me; Other times I can barely see. Lately it occurs to me what a long, strange trip it's been." - Grateful Dead, Truckin'
And what a long strange trip it has been this off-season, and our winter ride's just about over, only to be greeted by some springtime re-newal. That Atlas truck you see in the background is the Red Sox Spring Training Truck, and all Red Sox equipment is officially heading off towards Ft. Meyers for Spring Training today. For the true Red Sox fan this has always been a day of hope and anticipation. I for one can't wait, CAN'T WAIT, to start seeing what our new Boston Red Sox look like together. Only a few days away now...
I'm even looking fwd. to the WBC, it makes me nervous to have some of our key players missing important time with the team (Tek, Timlin, Gonzalez, etc.), however I think it's best for baseball in general.
So on the heels of New England's first real snow storm Spring is already beginning for us. A long strange trip indeed.