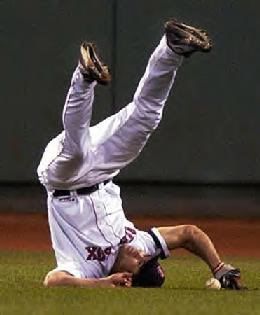 The first day of winter is a cold one for Red Sox fans as we sit huddled together with a feeling that we wish wasn't familiar. (Another) One of the most popular Red Sox players is no longer with us any more. Our team spokesman, our lead off hitter, our All Star Center Fielder, our free spirited idiot Johnny Damon is gone. Damon was supposedly the Red Sox number one priority this winter, now in losing him we are conceding him to our divisional (blood) rivals within our own division. For some reason I have a Beatles song off of the White Album rolling around in my mind with the incessant "Number Nine, Number Nine, Number Nine, Number Nine…" going over and over again in my imagination. For those of you a step back on the "Oh I get it Meter", that's Nine consecutive AL East titles I'm predicting for the New York Yankees.
I have a lot of questions now, and it looks like Tim Wakefield's, "What the heck is this team going to look like next year?" question is becoming more justified by the day. I appreciate the Red Sox creativity in trying to go the Co-GM route…but in a town and ball club that has become more soap opera then baseball it almost looks like a weak play on a weak hand. Too many cooks, one kitchen…yeah, you get the point. Are the Red Sox trying to re-build for the future right now and really just aren't saying it?
The two most important defensive positions on the field are vacant at Fenway right now. No shortstop, no center fielder. And like it or not, the replacements that aren't named Miguel Tejada are a drastic downgrade for the Red Sox. I understand the Yankees outbid the Red Sox yet again (didn't they just lose a bunch of money last year?) but at what point Red Sox fans does it look like we're just being cheap? (Somewhere a Royal, Pirate, & Brewer fan are laughing…) It's not like the front office doesn't have a rabid fan base that pays the most for their seats, and parking, and beer, and souvenirs, etc. The Red Sox have money to spend, and sometimes they may have to spend a little more then they feel comfortable with. The management has a lot to account for, and you can mark my words, after the Red Sox finish with 84 wins next year they'll realize all of the momentum and support they had after the 2004 season will be a distant memory. They've waited, and waited, and now the market is drastically limited for both positions in need. I can't wait to hear how they tried their hardest but in the end things didn't work out. Now, on to the caveman.
Johnny Damon. He was the anti-Yankee and now he's gone corporate, and he'll be shaved, clean cut, and boring. Just like Giambi is now, the personality will be devoid, and we'll see if money can buy chemistry again. The Yankees lineup is plain sick now. Damon is going to fall in love with that short right field fence, but lets remember…Damon played almost ½ of last year hurt. Damon is going to be a year older, and the Yankees may have bought Bernie Williams replacement…literally. Maybe this was a smart move on the Red Sox part. Maybe Damon is more damaged then we know. Maybe his girl like throwing will help the Red Sox win Game 7 of the 2006 ALCS as Damon needs two cut off men in the cavernous centerfield that is Yankee Stadium. Who knows.
What I do know is that Damon was offered the same exact contract that Jason Varitek (also a Boras client) accepted last year. Ask yourself this. Who's more valuable to the Boston Red Sox? Tough question I know, but even if you somehow score that one close, Damon is not $12 million more valuable then Varitek. I think Damon didn't like the direction the Sox were going, he saw friends leaving, he saw more money, he saw better players. It's the Yankee way. Now the Red Sox play from behind again…