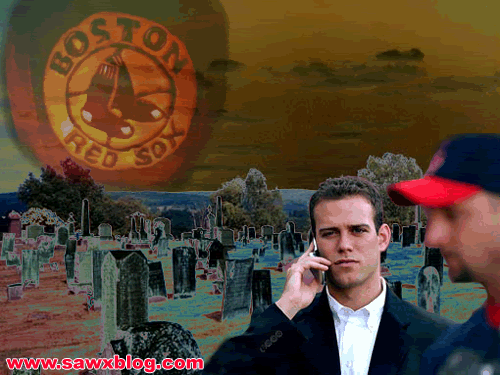 (SawxBlog Illustration)
Pathetic. It is pathetic how higher-ups in the Boston Red Sox organization handled Theo Epstein. It is not only Larry Luccino's fault, it's also Steinberg, and Henry's as well. So far everything that has occurred this off-season has been a nightmare for the Red Sox, and it's only the first of November. The media in this town has made me sick on all levels. From the right winged, old-fashioned views of the morning show on WEEI, to the Globe smear attack on Theo. This is a very bad day for our franchise, and we may be looking at ourselves taking a lot of steps backwards...
How are we supposed to sign our key free agents...or new ones for that fact, when people are jumping ship faster then you can say "Titanic". After the 2004 season I really think a lot of baseball players were jealous of the fun that Red Sox team had on the field and the direction we were heading. We had a very intelligent, fun, and not in your face GM in Theo Epstein. Larry Lucino's weekly visits on WEEI are a sham. Those guys have been on their knees for him too long, he shouldn't do that show, he show do his job, and his job is not to be in the limelight, but to create and have a cohesive and successful franchise. If anything he's rocked the boat harder then anyone while publicly airing things that should be kept behind closed doors. So what next, Kevin Towers? Who knows, I'm mourning today though, this is the biggest deal we had to accomplish, and the fact that we waited until the last min. is unacceptable, and a huge black mark on this ownership. Theo's going to have a long, brilliant career, I hope the Red Sox haven't made a crucial mistake...
Thanks for everything Theo, you'll be missed.