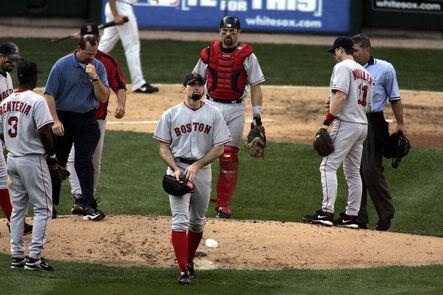 (AP Photo)
"It's disappointing. No excuses. I pitched bad, I threw bad pitches. They hit them." Well Matt, I'd have to agree with you there, saying you pitched bad may be going a little too lightly on yourself. You were absolutely awful yesterday, horrible. Yeah the Red Sox didn't exactly capitalize on runners they had on base, or balls that were kicked around like Fraddy Adu, however Matt never even gave us a chance to win this game. His pitch location was nowhere to be found, and he just looked very nervous out there. Should have Tito taken Clement out after he got hit by that liner? Probably, but this is only game one. This is only game one. And one last time...this is only game one.
The Red Sox may have lost one of their worse postseason games in team history yesterday, but it's only one game. Here's some history to keep people off of the Tobin just yet. 1999, down 0-2 to the Indians in the ALDS, Sox come back and win. 2003, down 0-2 to the Oakland A's in the ALDS, Sox come back and win. 2004, down 0-3 to the Yankees in the ALCS, Sox come back and win. I'm not saying this is the good, or right way for a team to do things, but they do have a recent history of coming back and winning a playoff series after being down early. Even look at game 3 of the ALCS last year, the Sox got humiliated, 19-8, and they came back fighting the next day. I'd be totally shocked if they did anything different tonight.
This team is far from dead, and I'm not going to say it is, but today certainly feels like a "must win" for Boston. If they can win today Chicago's home-field advantage is stripped away. I'm 100% confident that the Red Sox can win at least one out of two in Fenway Park, if not both. Chicago is a great road team, but being on the road in the playoffs is different. And if it goes to 5 games and they're back in Chicago, it's any mans game, and the Right Sox have been there before. So lets hope Wells can pitch like he did last Friday night in a pressure game against the Yanks, and give our offense a chance to grab a win tonight.
Another bone I'd like to pick today, and I think I speak for fans of all teams and leagues, when I say that in general and whole, the nationally televised games are painful to listen to. Excruciating actually. Lets rewind to this Saturday's game on FOX against the New York Yankees. FOX was playing REM's "Everybody Hurts" while showing Red Sox fans and over the game, when the game was pretty much in the bag. That is a shameless act. And during the whole broadcast you didn't hear one, NOT ONE, reference to how the Sox won it all last year and how there's no curse, or how they came back in the ALCS, or how the Yankees choked, yada, yada, yada. During a 2004 Red Sox game you couldn't watch a single national Sox game without hearing about the curse or a million other things colred negative. Plus listening to Buck and McCarver is about as cool and fun as a hemorrhoid.
Now lets move onto ESPN. They don't overproduce or harp too much on stuff like curses, however they do get on their knees for whatever team is winning at that current point in time. I believe it was Rick Sutcliffe who said yesterday, and I quote, "Ozzie Guillen is one of the best people in the world." WHAT!?!? How can you even begin to make a comment like that? They are so wishy washy on whatever team's up that it's sickening. If the Red Sox were winning like that yesterday they'd be saying, "Well, the small ball's only get you so far in the postseason. You need the ability to produce runs....blah blah blah."
My solution for all this is to have Tivo, DirecTV, or whoever offer a package in the postseason. What it would be is a delayed radio broadcast of your home team over the picture that ESPN or FOX is showing. How great would it be to hear Joe Castliglione and Jerry Trupiano of WEEI instead of Berman, and MIKE PIAZZA!?! (First Brett Boone, then Al Leiter, not Mike Piazza!) You pay $10.00 or whatever for the postseason and it'd be great. Even if your team wasn't in it you could still get a different flair for other cities etc. Plus you'd have options, which is what technology should offer us.
Eh, I digress. Let's Go Boomer (Not you Chris!) and lets Go Sox (Not you White!)