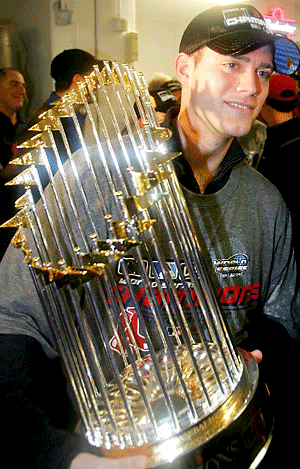 I happen to be of the strong belief that if (when) we re-sign Theo we'll be seeing a few more pictures like the one above. The thing that worries me is the attention that has been put on this and not the players. I'm just hoping this is just within the media, and not within the confines of 4 Yawkey Way. A good sign pointing to this is the fact that it looks like we will have Mike Timlin wearing a red B on his cap for at least one more year. Sean McAdam has reported that a tentative agreement has been met between the club and him and all that lies between is a physical. Timlin was quoted as saying,
''I just want to be able to do this and get this done, I'm not going to say I need two years. We'll do what we can to re-sign with Boston." Also add to the fact that he fired his agent and is representing himself show how much he likes, and wants to stay in Boston. If only life was this easy with all of our other free agents. The only thing that makes me a little nervous with Timlin next year is the fact that he has pitched a lot, and I mean a lot of innings over the last three seasons. He's 40 years old now, and it would kill me to see him fizzle out a la Alan Embree. We'll see though, hopefully he can be the rocking hick that he is.
Johnny Damon has been quoted recently as saying that he's waiting on Theo before he decides on his Red Sox future. Johnny said, "We have a good working relationship, he's been very honest with me and honest with the other players, I know that Theo will try to get me on any team he goes to but he belongs in Boston, and hopefully I'll be back in Boston." That's nice to hear, and just another reason why I think we need Theo here. The players trust him, and his honesty can go quite a way. I feel like Damon's saying a lot of the right things, and I'm not too sure if he'll be back with us next year. I really hope he is, and think he fits in great here in Boston, that damn Scott Boras makes me nervous though. Damon also chimed in on the upcoming Manny Meeting which was pretty interesting to hear. "We're just going to let Manny have his meeting, I want Manny to be happy. If he doesn't want to be here, I'll wish him the best. If he does want to stay, I'll keep getting on base for him to knock me in.'' That would be nice to see next year, pretty weird if they were both gone though.
Damon's most likely to file for free agency today and yesterday Millar and Mueller filed. If you're not too sure what this means you can read Chris Snow's explanation here. Both of these players won't be back, and that's sad. It's Youks time to really shine at third, and Millar just won't be happy hear as a platoon or bench player. We'll see though.