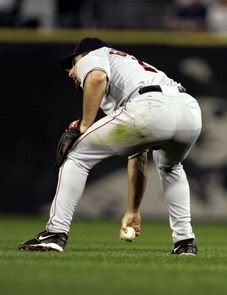 (AP Photo)
Last night was one of the worse losses to watch happen to the Red Sox in quite some time. The 5-4 loss to the Pale Hose puts the Red Sox on the brink of being swept out of the 2005 playoffs. This loss hurt a lot to watch as a fan. For all the media blowhards who said that after the Red Sox finally won a world championship that fans would care or feel less about the Sox are obviously far removed from being actual fans. For better or worse this is what it means to root for the Red Sox. The joy is also coupled together with hurt. And last night hurt. Seeing that ball go through Tony's legs was a swift punch to the stomach.
I'm not going to point fingers and scream at Nino, or Tito, or even Boomer. The Right Sox had opportunities to really pull away and they didn't. Graffanino, if the Red Sox do lose this series, will always be remembered for that play. I feel bad for the guy, because he's a dirt-nosed hard worker. He just made a horrible error at the wrong time, and it cost us the game. He was the only one who seemed focused in the top of the 9th, and he didn't give up, and tried to redeem himself.
I did give that history lesson yesterday though, and if any team can pump my deflated self full of hope it's those damn Red Sox. Having the season being so close to being over is very sad, and every year I feel like there's a great void given to me with the absence of Red Sox baseball. Last year we were lucky enough to be given a beautiful five month hangover, this year...maybe not. Either way, I have to root our boys into the end. It's not really a choice, this was something I was born into, and I'm proud, even if they lose Friday, to call the Red Sox my team.
So lets buck up, hope for the best, and keep baseball in New England for a little longer. Let's Go Red Sox!!!
To accomplish great things, we must not only act, but also dream; not only plan, but also believe.
- Anatole France