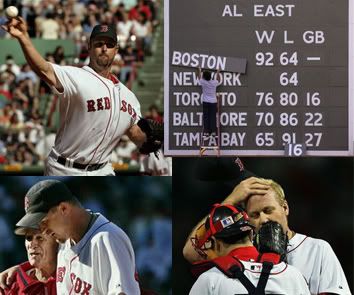 (SawxBlog Collage / AP Photos)
Well, how do I approach yesterday's doubleheader? First off, I'll say this; it was a great day for baseball. My co-worker had an extra ticket and I was in attendance at the day game, and Fenway is a special place to be right now. There's a total playoff feel and intensity that is surrounding the park and I'm sure it will be rising with each passing game leading up to this coming Sunday. And instead of the dread that a lot of Sox fans have right now, I'm enjoying this. This week is such a prime example of why the wild card is great, there's just so much that can happen. This leads me to some things that bother me about my own RSN brothers and sisters.
I feel like there's a few types of Red Sox fans out there, and you see them all when at Fenway. Here's an example of who you may be sitting near at the next game, be it at Fenway, your local pub, couch, or what have you.
Old School "Son of a Bitch" Guy – This Sox fan is usually over 50 and is fairly quiet for the first few innings. He'll sit with legs crossed, hand to face, and with his eyes intently on the game. He'll drink his beer like a port, have a little bit of a gut, and have a Sox T-Shirt on, not a jersey. The only words you'll hear him mutter is "Son of a bitch…" with a slight head shake every so often. If things go sour Old School "Son of a Bitch" Guy can quickly morph into The "End is Here" Guy.
The "End is Here" Guy – This is my least favorite fan, and will focus on the negative aspect of the Sox 10/10 times. This is the guy who'll, during the course of an entire Red Sox game, say that every player "sucks" and will second guess every move that Tito makes. There's a good chance this person is drunk.
The "Don't know what I'm talking about" Guy – This person starts getting interested in the Sox around late August and doesn't really know too much about the team, or baseball in general. I also like to call him faux-fan. He'll most likely have a brand new Sox hat and will say things like, "We should have kept Derek Lowe" (He doesn't call him D-Lowe), or "Who's this Graffanino guy?" etc. etc. etc. This guy will annoy the piss out of you.
The "Paraphernalia" Guy – This fan will wear the most hideous Red Sox hats and shirts imaginable. The hat is most likely cocked to one side, the brim isn't bent or broken in at all, everything is squeaky clean new, and his jersey is most likely three sizes too big on him. His girlfriend will be trashy hot and most likely from

Revere

. He doesn't really pay attention to the game, and if he has his choice of beer, it'd be Heineken.

The "Drunk Fake Accent" Guy – This "fan" is most likely a college student and not a Sox fan at all. Their goal is to use Sallie Mae money to buy as many $6.00 beers as possible and scream things like "You suck Edgahhhhhh!". They won't have anything Red Sox on their possession and they will swear consistently around young kids and old ladies.
The "Manic Sox Fan" Guy – If I had to throw myself in one of these categories I'd have to say this is the one. This person knows their Sox fairly well however they ride emotional highs a little too much. In the span of one game you may hear them utter, "This is it, the Sox just aren't deep enough this year" then "These guys know how to win, with this line-up there's no way they're not making the playoffs!" Manic Sox fan guys night is either made or ruined by the performance of the Sox, and is physically tired after intense games. Yankee series give him heart palpitations.
There are many more types of fans, and I'll revisit this more in the offseason, however I feel like there's more Old School "Son of a Bitch", The "End is Here", "Don't know what I'm talking about" Guys then I'd like to acknowledge. Boston fans can be so freaking negative. I guess people handle things in different ways, and maybe I'm on a manic upswing right now, but this week is why you're a fan of sport, because you love intense competitive down to the wire games. Blow outs and mid September clinches just aren't fun.

Oh yeah, there was a double header yesterday. Sox won one, they lost one. They missed a golden opportunity to take the lead in the Wild Card and division. I blame Schilling not Tito. That's just me, but we're still fighting and we're still in it. Wakefield is a stud. Lil' Pappy is growing up fast. Hansen's not ready. And these guys know how to win, with this line-up there's no way they're not making the playoffs! Hah ha, hope you're having as much fun as I.