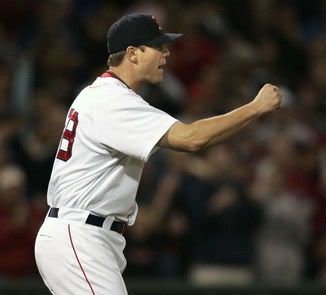 (AP Photo)
''It's going to be three Super Bowl games, two heavyweight fighters. The energy of the city, the fans, and the media is going to be awesome." - Kevin Millar

Oy. So this is what it comes down to. Three games. A season that you follow a team for 160+ games and we're down to a weekend that's for all the marbles. Being a Sox fan I'd feel a little better if we were tied or up by a game but damn...this is fun. I've cursed the schedule the Sox have had pretty much all year long, but even I have to admit this series is pretty awesome to have. It's a mini-ALCS wrapped up in a nice little three game package. And you know what they say comes in small packages. Good things.
How 'bout that game last night? I was at the Baseball Tavern, which is located adjacent to Fenway, last night and my emotions were completely all over the map. The two games that I was scoreboard watching were pretty much the opposite of what I was hoping for, and the Sox game was also going in the wrong direction. Then the Sox pulled some vintage cold weather magic.
Papplebon is bonified now. He held the line for us for almost three innings and was the key to us not losing this game. If we lose last night, the season's pretty much a wash. That's how it is from here on out, for better or worse. Clement was his normal September self and pitched far below his potential. And I want to be angry, mad, and upset with him, but I can't stay that way. That and the(I hate to use this reference) "Jeter-esque" flip he had to home showed me he was giving it his all, his stuff just wasn't there. If he doesn't make that flip my hangover's a depressed one, not a happy one.
Then we have our 3 and 4. Ortiz and Manny. Possibly the best combination of players the Red Sox have ever had. Manny's bat is scorching right now. That's good, very good. And Ortiz was in a mini "slump" however guess who's clutch again? Senor Octubre must smell October because last night sure felt like it. Game tying HR, followed by a walk off single. Nothing more can be said about him. Time and time again our MVP comes through.
Now it's a three game series against the Yanks. Winner in, loser most likely out. Let the heart palpitations begin...damn this is fun.