**Note - Yes this all was up before DirtDogs...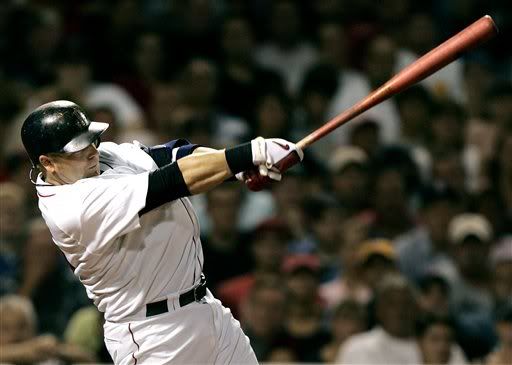 (AP Photo)
Knock Knock?
Who's there?
Kevin Millar.
Kevin Millar who?
No seriously, Kevin Millar, I'm here to play now...
The Boston Red Sox came back again tonight in a game that was very similar to last nights victory thanks in large part to the big swinging bat of Kevin Millar. Kevin set up his big game by asking fans to stop booing and get behind the team in September in a NESN pre-game interview. He said that they needed us, and we needed them, and frankly I kind of agree with him. I'm not going to try and spin everything positive from here on out, but seriously. We have the third best record in the majors, are in first in the AL East, and will be in Friendly Fenway pretty much here on out. So I'm with you there Kevin, you may hear some moans, but no boos. Also, if you hit half as good as hit tonight here on out, there'll be no need to worry about boos.
The game looked like it may be a lost cause early due in large part to a non-knuckling knuckle ball, and a very stiff breeze blowing out of the park, a pretty deadly combo. Luckily the wind was blowing out when we batted too and the Red Sox scored seven runs in a game at home AGAIN. This came on a night with Trot Nixon & Jason Varitek on the bench too, great news. Tim Wakefield (a la Curt Schilling) pitched a masterpiece after giving up the 5 runs and retired 16 batters in a row. He probably could have thrown a complete game, but Francona called on Timlin to seal the deal.
Alex Cora played instead of Graffanino and his solid play at second and heads-up hitting were a huge boost for us tonight. I couldn't be happier to have the combo of Graff and Cora at second base. They've been a much needed boost for the Sox. It's also interesting to see the New York Yankees picking up our scraps once again, this time in the form of Mark Bellhorn. Seeing him in pinstripes is almost as bad as seeing Embree in them. The only positive I see in this is that we have another embedded Red Sock over in the Bronx. I hope Mark has a great rest of his career, as long as it starts after the 2005 season.
We go for the series sweep over the D-Rays tomorrow sending Bronson Arroyo to the hill.
Other Notes:
- How about Mirabelli's steal? Homeboy was 3/4 of the way there before the pitcher noticed.
- It is really, really hot in Boston. Hopefully this bodes well for out offense.
- Best wishes and prayers go out to those down South. To learn how to help out please click here.