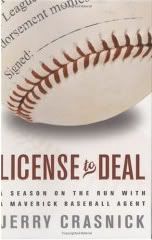 Even though complaining about Manny is very in Vogue right now, I'm going to stay away from that and write about something positive. This leads us to Jerry Crasnick's first book, "License to Deal". This book has the buzz upon it's release as being the baseball book for 2005 and as I read the last pages on the T this morning I'd have to agree.
A few years back "Moneyball" took us into the mind of A's GM Billy Beane and opened the publics eye to the importance of certain overlooked statistics. Last year "Numbers Game" gave us the first historical look at statistics in baseball, and really brought focus to some important stats people not named Bill James. "License to Deal", in my mind, seems like a great follow up idea to the previous two books.
The best baseball related books have been much less about the players, and more about the game, and the people behind the scenes. Jerry follows agent Matt Sosnick around the country as he competes against the big fish for talent. Aside from watching Jerry McGuire I knew relatively little about what it meant to be a sports agent. All I knew was that Scott Boras made it difficult to sign players, but not why or how. Although Sosnick is the focus of the book, Crasnick touches upon a lot of other agents out there and even dives into the history and evolution of the business.
Sosnick was the perfect choice as an agent too. He's young, small, full of energy, and a guy who's like-able and who you're "rooting for" while reading the book. His dynamic with his number one client, Dontrelle Willis, is endearing and makes me look at the Marlin pitcher in a different light. I feel like I have a strong grasp of the Agent business and know that I'd NEVER want to be an agent. That being said, it's a facinating communitty, and that has a huge influence over the game we love.
This book is THE book of the year, and I highly recommend checking it out. It's a little pricey because it's still hardcover, but worth the investment, and is a great addition to your baseball library.
OVERALL: 8.5/10

Have a baseball book you'd like reviewed on SawxBlog? Please e-mail webmaster@sawxblog.com for more information!