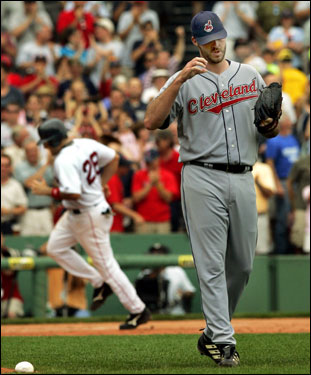 Well the Sox were able to beat the Cleveland Indians today and win the season series against the Indians at 4-2. Wakefield gave the Sox a solid outing and his batterymate, Doug Mirabelli, made the most of his start with a roundtripper of his own.
Now that I'm back from my travels I can focus more on the Sox, and what an interesting team to focus on. They are still one of the hottest teams in baseball (even though they lost this series) and are looking like the defending champs they are. Why the big turn around you ask? The answers more simple than you may imagine.
1. Strong solid efforts by out starting pitchers.
2. More consistent hitting 1-9.
The Sox have played more road games then anyone in baseball, have had their #1 starter on the shelf almost the entire season, and have had horrible woes in the bullpen. What's our reward? First place in the AL East by 3 games over the Baltimore Orioles. I'm very happy and confident with this team right now. They're scoring a lot of runs and maximizing their outs. Manny, who was never struggling as much as people were saying, has gone from: "What's wrong with this guy?" to "MVP Canidate". Insane.
If the Sox make any moves this month it will be to bolster their bullpen. And no one in baseball will be making a mid-season move as big as getting back a Curt Schilling. I'm a little freaked out that we're not having our normal June Swoon, we'll see though, the race is almost 1/2 over and we're in ideal shape. With the majority of our games home in the 2nd half the grass may be even greener after the All*Star break.
Now get off your butt, create a new e-mail account, and vote 25 more times for Damon. Homeboy deserves to start this year!