Move over Bollywood, it's time for Tollywood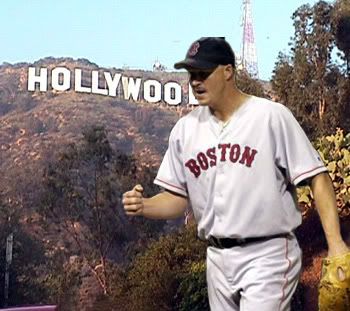 Unfortunetly, Mike will not be attending the Oscars this week
Aside from Red Sox blogging I do have another (real) job, and that is done while working at a small production house in Boston. Cutting and editing video, authoring DVDs, and designing websites are among some of the duties I perform. While reading the Globe today I came across what would have been the wettest of wet dreams for me. Apparently Mike Timlin video taped the playoff run the Sox had this past postseason with his little mini-DV camcorder. He caught everything from being in the dugout during the games, plane rides, bus rides, and everything inbetween. This is amazing, and so far it looks like this won't be available to the public. I'm waiting and praying for a "leak" though, and am sure it's only a matter of time before someone gets their hands on it. Tom Werner even said, "I tried to get Mike to let us put it on NESN, but he turned me down."
He gave the footage to a production house (ahem!) and they edited the 3 hours into one cohesive piece. He mailed it with a christmas card to all his teammates and coaches so the odds of this leaking are good. I think this would be just awesome to watch and it would have just been a dream to edit. Kevin Millar had this to say about the video:
"NESN's video was awesome, the MLB World Series DVD was awesome, but Timlin's video you watch and get chills and it can bring a tear. It gives you the inside, the smiles, the hugging, [Curtis] Leskanic making jokes. On the plane. Inside the clubhouse. You see us in the clubhouse and the song is `Lean Back,' and then you see David Ortiz and he's leaning back. You see Mike Myers ripping into [ESPN's] Harold Reynolds for not believing in us after we win in New York."
Damn, how cool. I wonder if they got any of their infamous poker tourney's they play on the plane caught? Here's to wishing this gets leaked. You can read the whole article here --> http://www.boston.com/sports/baseball/redsox/articles/2005/02/24/film_deserves_red_carpet_treatment/